Service Friday for Tommy Summy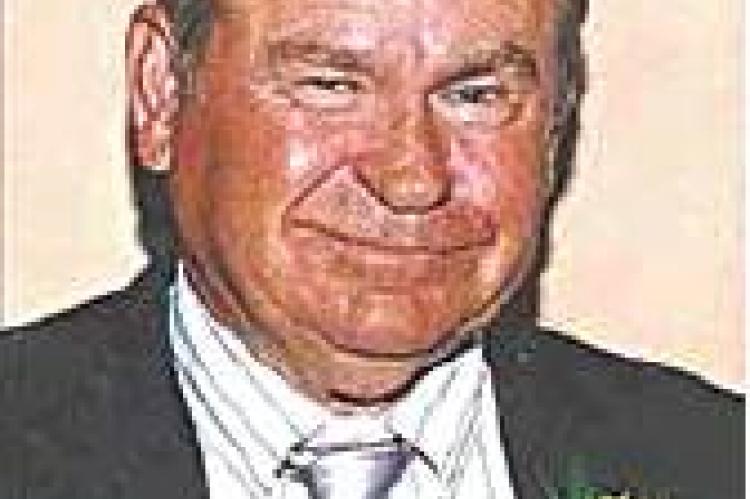 Tommy Ray Summy arrived on June 12, 1932, at home in the Old Texas Banner area to his parents, William (Gideon) and Goldie Mae (Haywood) Summy. Tommy attended Moss and Holdenville Public Schools where he made lifelong friends. Tommy worked several different jobs such as an auto mechanic, a hearse driver for a funeral home, and a cement truck driver. Finally, he worked for Oklahoma Natural Gas where he retired after 31 years of service.
Tommy met Norma Delene Upchurch at Texas
Banner Church of God. They were wed on December 2, 1951 in Lamar and were happily married for 65 years. Tommy and Norma had a lifetime of sharing memories, family gatherings, and traveling together. Tommy was a gentle giant who worked hard to provide for his family, never turned down a friendly competition or game, loved the great outdoors, loved coaching, loved watching his children, grandchildren, great grandchildren, and really anyone who was playing sports. Tommy was a great practical joker. He loved to roughhouse, put ice down your back when you weren't looking, give wet willies, and sneak in an extra move where he could during games. Tommy's friends from Oklahoma Natural Gas will attest to this game strategy.
Tommy always helped Norma in the garden, went 'coon hunting any chance he had, and enthusiastically received mud pies from the grandchildren when he got home from work. Tommy loved his dogs and fed them better than anyone we know. Tommy had a generous heart and would help anyone he could, in any way he could.
Tommy valued no other relationship more than with his Lord and Savior. There is no doubt Tommy was greeted in Heaven by family and friends upon his arrival. Among those are his parents, wife Norma Summy, son Stephen Ray Summy, siblings Ellis Summy, Lila (Margaret) Upchurch, Wilma Lacy, and Minnie Mae Rooker.
Left to cherish Tommy's memory is one sister, Selma Fitzhugh of Holdenville, Oklahoma; son, Mark Summy and wife, Barrie, of Santee, California; daughter, Lila Arthur and friend, Scott Lamb, of Broken Arrow, Oklahoma; daughter-in-law, Carol Bailey of Moore, Oklahoma; grandchildren, Crystal Marlett and husband, Brian, of Moore, Stefanie Hix and husband, Kris, of Blanchard, Amber Lamb and husband, Bryan, of Broken Arrow, Brittani Powell of Broken
Arrow, Stanley Summy, Stephen Summy, Drew Summy, and Claire Summy, all of Santee, California; great grandchildren Chance Marlett, Ava Marlett, Parker Hix, Gemma Lamb, and Odin Lamb; along with numerous nieces, nephews, cousins, and a host of other relatives and friends.
Tommy peacefully joined his Lord on October 18, 2018 in Broken Arrow, in his home with family. The funeral service is scheduled for Friday, November 2nd , at 1:00 pm at Faith Free Will Baptist Church in Holdenville. Brother Earl Scroggins will officiate the service. Pallbearers will be Stanley Summy, Stephen Summy, Drew Sum-my, Brian Marlett, Kris Hix, Bryan Lamb, Gary Franklin, Darrell Franklin, Rodney Franklin, and David Franklin. Honorary pallbearers will be Leroy Dority, Rick Griggs, Bert Durbin, Ray Milam, Ernest Moore, Glen Pasley, David Horton, and Jim Upchurch. Interment will be at McMahan Cemetery in Horntown, Oklahoma.
Services are under the direction of Hudson-Phillips Funeral Home in Holdenville. Visitation with the family will be on Thursday, November 1, 2018 from 6:00 to 8:00 pm at Hudson-Phillips Funeral Home. In lieu of flowers, donations can be made to Faith Free Will Baptist Church, P.O. Box 545, Holdenville, OK 74848 or Mc-Mahan Cemetery, First United Bank, 102 E. Main Street, Holdenville, OK, 74848